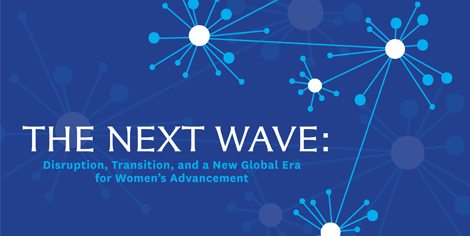 Last Tuesday I participated in The Next Wave, an international colloquium hosted by Bryn Mawr College.
The one-day colloquium aimed to discuss strategies for women's advancement in this moment of global shift. It facilitated discussion on expanding sustainable economic opportunity for women post-2015, while broadening women's participation in civic and political life, and engaging the talents of the "next wave" of emerging women activists and leaders.
I enjoyed watching keynote speaker Mary Ellen Iskenderian, president and CEO of Women's World Banking who talked about issues of economic development for women namely, how human rights for women will never be fully recognized without economic rights for women. She also asked the audience to constantly question whether or not women are being served in NGO's we support.
Throughout the colloquium I was particularly thankful for my Women in Society in the Global South seminar, a sociology class that I'm taking with Professor Mary Osirim. It helped me to better understand themes discussed throughout the day, in particular, women's economic empowerment through the micro-enterprise sector.
Another speaker I really enjoyed seeing was Shelby Knox, who serves as the Director of Organizing, Women's Rights for Change.org, the world's largest petition platform. Ms. Knox said she was most proud to be a "young feminist organizer" and promoter of "clicktivism." She also talked about a petition started on Change.org by three teens from New Jersey who wanted to have a female moderate one of the presidential debates this year, something that had not been done since 1992. This petition ultimately resulted in Candy Crowley moderating the second presidential debate.
Finally, students from Bryn Mawr, Swarthmore, Smith and Brandeis, including my friend and fellow sociology major Molly Fessler, spoke about youth activism and the next wave of change. There were many female high school students at the colloquium and I'm certain this discussion was particularly enlightening for them to hear. I would have loved to have been a part of a Next Wave like conference while in high school, and am thankful for the opportunity to do so in college.