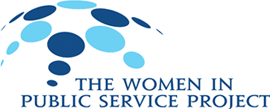 Launched in December 2012, the Women in Public Service Undergraduate Initiative at Bryn Mawr College seeks to encourage Bryn Mawr College students to pursue careers in public service.
Our site is officially launched, and I hope you'll keep up with the blog as we have some amazing women writing for the club. Below is my first blog post, it's somewhat of an introduction to initiative:
I distinctly remember the day I saw Secretary Clinton announce the launch of the Women in Public Service Project. It was my freshman year at Bryn Mawr College and I was home in Louisiana for Winter Break. It was evening and I was scrolling through Facebook when it appeared on my newsfeed; an upperclassman from Bryn Mawr had posted the link.
In the video, Secretary Clinton talked about the project's goal; global political and civil leadership of at least 50 percent women by 2050, by building the infrastructure and convening the conversations necessary to achieve this vision. Watching the video, I was overjoyed. At that moment, I realized I had made the right decision in choosing to attend Bryn Mawr, a women's college.
In learning more about the project, I was initially saddened that as a current undergraduate, I didn't think I would have much involvement in the project. Talking on the phone to my friend and classmate, Maya, we decided we wanted to change that. And so we started an undergraduate club at Bryn Mawr, which was finally launched last semester
The goal of our initiative is to foster relationships among current Bryn Mawr students interested in pursuing careers in public service. During this semester, and for years to come, we hope to attract guest speakers established in their respective fields, foster dialogue among our student body, network with Bryn Mawr and other Seven Sisters graduates, and aid our members in their search for internships, externships and jobs.
Madeleine Albright once said, "There is a special place in hell for women who don't help other women." Most simply, we want to create a space for Bryn Mawr women to help other women.
Since its founding, our club has had the privilege of becoming involved in the national institute being held at Bryn Mawr college this summer. We will talk with delegates and speakers attending the institute, and be sure to blog about these experiences.
The bloggers on this site are all members of our initiative, students at Bryn Mawr, and young women pursuing careers in public service. This semester, many of their posts will have a global component in preparation for this summer. They will bring personal experiences to their writing, as well as material from classes they've taken as students at Bryn Mawr College.
We welcome your involvement. Please contact us through this web site or by email: wpspui@gmail.com