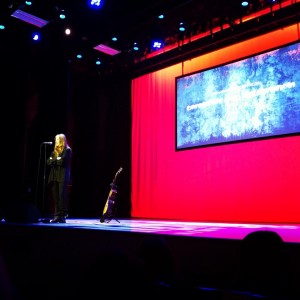 I have just returned from seeing Patti Smith perform at Bryn Mawr College's Goodhart Auditorium, an experience I never thought I'd have.
Tonight Bryn Mawr is presenting Ms. Smith with the Hepburn Medal. The medal recognizes women who change their worlds: those whose lives, work, and contributions embody the intelligence, drive, and independence of the four-time Oscar winner.
I distinctly remember the first time I'd heard of Patti Smith. When I was younger I used to like Deborah Solomon's Questions for column in The New York Times and remember laughing hysterically at the following interaction between the two in one interview:
You seem to cultivate a kind of wild-child mystique, even in your appearance. For instance, why don't you use hair conditioner? I do use conditioner!
I'm surprised. You're the queen of split ends. That's very funny because I've just cut about eight inches off my hair because it was just too ratty-looking.
I found her very humorous in the interview and witnessed this humor again firsthand a few hours ago.
After a short introduction by Bryn Mawr alum and American reporter for National Public Radio, Neda Ulaby, Smith took to the stage. She had inspirational things to say including, "your destiny hasn't been fulfilled yet; anything is possible," which I'm certain pleased many of the students in the audience. She somewhat unexpectedly began the event by asking for questions, and the audience obliged. She spoke of her struggles writing about Robert Mapplethorpe, and affirmed that writing is her favorite medium. When talking about building ones name she offered, "Smith's not such a bad name after all."
Phew.
She briefly read from her memoir, Just Kids, and then took to her guitar. She ended the event talking about embarrassment, and did something she said greatly embarrassed her, an acapella performance of Because The Night. 
Right now all I can really say is wow… that and update my Pandora stations.