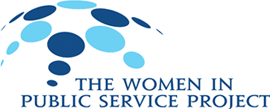 This Friday we had our Women in Public Service Undergraduate Initiative launch party.
The project, launched by U.S. Secretary of State Hillary Clinton in partnership with the U.S. Department of State and five leading women's colleges – Barnard, Bryn Mawr, Mount Holyoke, Smith, and Wellesley, is housed at the Woodrow Wilson International Center for Scholars as of June 2012.
Their mission is to build a generation of women leaders who will invest in their countries and communities, provide leadership in their governments, and change the way global solutions are forged. Developed by a founding partnership of the Department of State and the five leading women's colleges, WPSP will convene a series of global conversations and launch partnerships to educate and train a new generation of women to enter the public sector with the strategic leadership skills, energy, and commitment required to tackle today's global challenges.
More information on the national project can be found here.
The Women in Public Service Institute is being held at Bryn Mawr College this summer. The Institute takes place from July 7-19 and will provide a forum for shared learning and dialogue among emerging women leaders from countries that have recently experienced disruptive conflict, but have reached a state of at least tenuous peace and are rebuilding, understanding that the boundaries between conflict and peace are often fragile and fluid.
My friend Maya and I were thrilled at the induction of the Women in Public Service Project, but saddened that undergraduates did not have all that much opportunity to be involved. We have since begun an undergraduate initiative, and had our official launch party a few weeks before the end of the semester. One of our endeavors is to host a series of lectures for women interested in public service leading up to the institute this summer. We hope to attract speakers who can share their unique experiences in public service, as well as speak about being women in male dominated fields. Hopefuls for next semester include Congresswoman Schwartz and Alice Rivlin.
Below are pictures from the launch party. In addition, please like our new Facebook page!