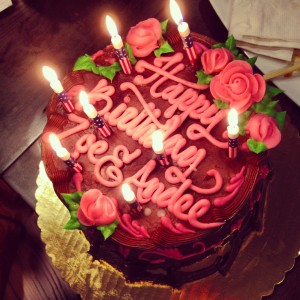 Birthdays away from home can be sad, often evoking feelings of homesickness, but with the right combination of friends and food they can be quite the event at Bryn Mawr College.
Some of my friends have a little tradition where they surprise one another on the midnight of one's birthday with a cake and candles (unlit of course because of the dorms 3 minute burn time), or in the case of the few vegan friends in the group, a candle in an apple.
And often in addition to this tradition, one has a celebratory birthday dinner in town. I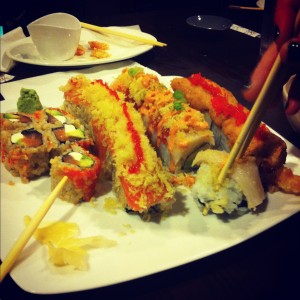 just this second got back from celebrating the the shared November 4th birthdays of sophomores Andee and Zoe, for which my friends and I ventured into DTBM, slang for Downtown Bryn Mawr (coined by Zoe), for a surprise sushi dinner at Sushiland and a double layer chocolate on chocolate cake, compliments of Bakery House.
The evening was a joyus one, and I know these little gestures make birthdays away from home and family (and in my case dogs) somewhat easier. I am fortunate to have my birthday fall during Thanksgiving break, to which I usually way up to a lit candle in a bran muffin at my grandparents house, but I hope to have a similar event in DTBM with friends this year.