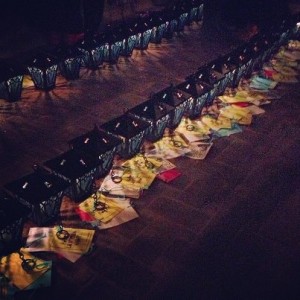 Hi guys. Due to some Illuminati you know what, Hannah skipped out on Lantern Night. Not only did I attend, but I carefully placed the lanterns behind the freshmen (also know as being a "runner" in the BMC community). Since I did such a great job, Hannah asked me to write about the event.
Before Lantern Night kicked off, I had a tea with my customs group on Pem East third. Despite the impending hurricane, I weathered the storm with Hannah and a few other friends to pick up some supplies from Acme. For the tea, we had donuts and sparkling apple cider (to give it a holiday feel). My freshwomen loved it and we made our list of what would happen when each lantern went out.
The List:
1. First to be married–Yuju
2. First to write a book–Sam
3. First to be on SNL–Arnetta (one of my personal dreams)
4. First to get a tattoo–Eri (not one of my personal dreams)
5.  First to win a Nobel Prize–Tianyi (not in my realm of dreams currently)
6. First to be POTUS/work in the White House-Paloma (I threw in this one to hopefully give Hannah some serious competition in the future)
7. First to be a Real Housewife–Danielle
8. First to get a PhD–Amelia
After our lovely tea, I arrived for Lantern Night at 6:00 to help set up the lanterns and start to light them. In my down time before the ceremony, I even had a chance to Instagram a few pics of the baby blue lanterns.
As a sophomore, this was my first time watching and it was absolutely beautiful. People may have ignored some rules on the whole "no flash photography" front, but I still loved every second. Normally, I am not a fan of running in the rain, but this was completely worth it. The freshmen did a great job and walked in somewhat straight lines. I did see a couple of them peek at their lanterns so they might want to be careful.
Not to give too much attention to the runners, but I did overhear an upperclassmen say on her way out that she was surprised none of the runners fell. So, to all my fellow runners, great job on not falling.
After Lantern Night, all of the freshmen on my hall gathered for a group picture. We took one happy picture and one serious picture, in honor of Vintage Bryn Mawr. My customs partner, Shamial, had gone home this past weekend for Eid. Unfortunately, she was not able to travel back from Bethlehem (Pennsylvania for any clarification needs) in time for Lantern Night due to the road closures. I was luckily able to Skype her for the tea then Instagram/Live Tweet/Facebook from the ceremony and then crop her into our pictures so she almost did not miss a thing.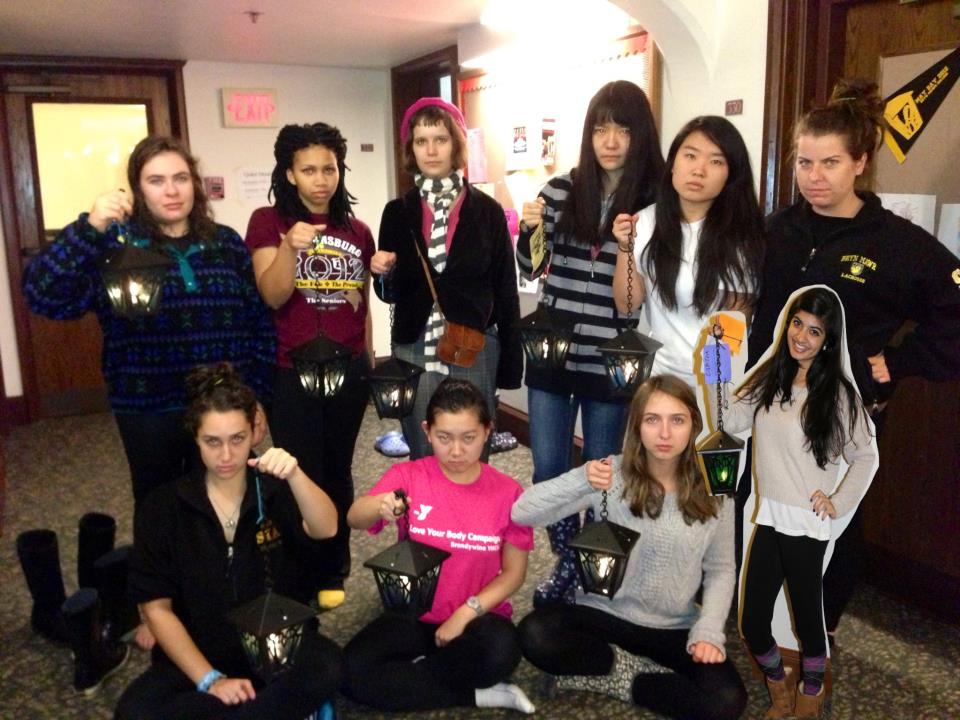 Experiencing traditions this year since I am no longer a freshman has been bittersweet. Although I miss the extreme amounts of love from the upperclassmen, I have loved experiencing traditions as a sophomore and customs person. I cannot wait for Hell Week and May Day next semester and to experience Lantern Night again as an upperclasswoman.
Love you mean it,
Zoe K. Fisher